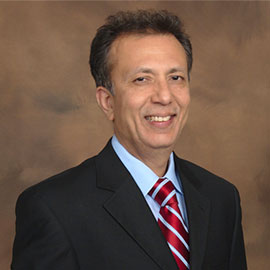 Dr. Khaja graduated from University of Kansas School of Medicine program in Adult and General Psychiatry. He completed his fellowship training at the Brown University in Geriatric Psychiatry. He also did fellowship in Sleep Medicine at Stanford University.
He is Board Certified Psychiatrist and also Board Certified Sleep Specialist.
His area of clinical expertise include: major depression, bipolar mood disorders, anxiety disorders, post traumatic stress disorder(PTSD) and obsessive compulsive disorder(OCD). He also treats psychotic illness such as schizophrenia, substance use disorder and personality disorders.
Dr. Khaja also specializes in sleep disorders and treats: Insomnia, parasomnias, sleep apnea, jet lag, restless legs syndrome(RLS), narcolepsy and REM behavioral disorders.
Dr. Khaja has presented at American Psychiatric Association, American Geriatric Association and American Academy of Sleep Medicine along with various lectures, grand rounds and presentations. He has received numerous awards and recognitions.